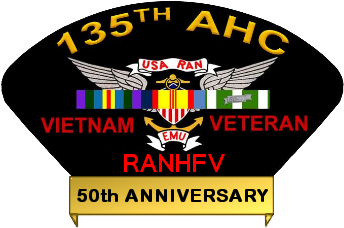 Royal Australian Navy Helicopter Flight Vietnam (RANHFV)
50th ANNIVERSARY
Greetings.
This is our first post out to provide you with a few basic details about our 50th reunion.
The event, at this stage, will be over Sunday 15th, Monday 16th and Tuesday 17th October 2017. The 15th and 16th October are the two dates that the first contingent left Australia for Vietnam.
Our plan for the reunion is in broad brush strokes and is:
Sunday 15th: A service at HMAS Albatross followed by a BBQ lunch and catch up at the Museum with guided tours of HMAS Albatross. We will get together Sunday for a meal and refreshments.
Monday 16th: Dedication of a memorial marking 50 years since the First Contingent left Australia for Vietnam. 723 will do a fly over during the dedication. Lunch at the Museum. COMFAA will host a cocktail party followed by a Buffet meal. RAN Guard and Band will Beat the Retreat.
Tuesday 17th: Parade with Guard and Band at Bomaderry, march down the street to the memorial in Walsh Park (??). Review by the Governor General. 723 fly over. Afternoon free. Get together that night for a club meal.
Wednesday 18th: Trip to HARS if there is sufficient interest.
Please remember that this is a very early plan and the fine details are yet to come. To assist us in the planning we have attached the following:
Expression of Interest. Please fill in and return to Mac. Click Here For Form
Accommodation List: (See below) List of some of the accommodation in Nowra. The US personnel attending will be billeted by local families.
Missing: (See below) This is a list of HFV members who have vanished and we've been unable to locate. If you know anything about them please pass on the reunion information to them and/or let Mac know. It is important that everybody is informed about our reunion.
Life After Vietnam: We would also like to compile a book on what you did after you returned from Vietnam until present. The completed book will be given to all who attend and copies will also be kept as a part of our history by the Museum and the Sea Power Centre. So if you could put together a brief outline (half a page maximum) of your post Vietnam life and send it onto Mac. This also includes US Army, 9 Sqn and 2 RAR personnel.
VCG Application: Approval has been given for various Australian units to apply for the Vietnamese Cross of Gallantry Unit Citation. You can apply for it on line or by post. The link is: http://www.defence.gov.au/medals/Foreign/RVCGPUC.asp
If you would like the GG to present it to you please tick the box on the EOI form.
Please tell and/or forward onto your mates about this info package just in case we have the incorrect contact details, etc just to make sure everybody knows about it.
Mac is the point of contact and his details are: John Macartney, 14 Joel Drive, Old Bar, NSW 2430, (02) 6557 4165, o427 787 296, jrmaca@bigpond.com
Yours Aye
Ted, Bob & Mac
---
Nowra Accommodation
At the moment the intention is for all personnel coming from the States will be billeted in private homes in Nowra.
For the rest of us I've been to Nowra and went around the various motels that looked ok and the list is below. I have not made any group booking, instead I have left it to you to book your own.
In no particular order:
Parkhaven Motor Lodge, Cnr Kinghorne & Douglas Streets, Nowra, Phone (02)4421 6444, Fax (02) 4421 5384, Web www.parkhavenmotorlodge.com.au
Email phml@shoalhaven.net.au Hosts: Tneal & Greg
Shoalhaven Sports Motel, 131 Greenwell Point Road, Nowra, Phone (02) 4422 4522, Fax (02)
4422 4688, Web www.springsresorts.com.au
Email shoalhaven@springsresorts.com.au
Nowra Motor Inn, 202 Kinghorne Street, Nowra, Phone (02) 4421 0555, Fax (02) 4423 1506, Web www.nowramotorinn.com.au
Email E.stay@nowramotorinn.com.au
Hosts Danny & Kerrie. Danny told me that it is best to ring them and they will look at giving us a discount. Very helpful people.
Quest Nowra, 130 Kinghorne Street, Nowra, Phone (02)
4421 9300, Fax (02) 4421 9399, Web questnowra.com.au Email questnowra@questapartments.com.au
Hosts Alex and Kay-Lea. A fairly new establishment. The only one in Nowra that offered to show me around and Alex is rightly proud of the Quest.
George Bass Motor Inn, 65 Bridge Road Nowra, Phone (02) 4421 6388, Fax (02) 4423 1909,
Email info@georgebass.com.au Web www.georgebass.com.au
Pleasant Way Motel, 9 Pleasant Way, Nowra, Phone (02) 4421 55 44, Free Call 1 800 355
182Email stay@pleasantway.com.au
Web www.pleasantway.com.au
---
HFV 50th Missing
| | | | | | | | | | |
| --- | --- | --- | --- | --- | --- | --- | --- | --- | --- |
| Name | | Flight | Partner/NOK | Phone | Mobile | email | Address | YOB | Age 2017 |
| Ballantyne | Barry John | 2 | | | | | | 1948 | 69 |
| Clark | John Frederick | 1 | | | | | | 1938 | 79 |
| Hawkins | Raymond Basil | 2 | | | | | Gold Coast | 1945 | 72 |
| Homer | Raymond Harold | 1 | | | | | Greenwell Point | 1929 | 88 |
| Jones | Raymond Marshall | 1 | | | | | | 1943 | 74 |
| Lambert | John Gibb | 2 | | | | | | 1949 | 68 |
| Malcolm | Peter Robert | 4 | | | | | | 1945 | 72 |
| McWaters | Ronald Keith | 2 | | | | | | 1946 | 71 |
| Mills | Francis John | 3 | | | | | | 1945 | 72 |
| Montgomery | James Henry | 3 | | | | | | 1947 | 70 |
| Morris | Garrie David | 3 | | | | | Sydney Possible RIP | 1942 | 75 |
| Morton | Stephen James | 4 | | | | | | 1950 | 67 |
| Oppenhuis | Willem Wessell | 1 | | | | | | 1943 | 74 |
| Smith | David Ronald | 3 | | | | | AKA Kenneth Noel Wilson | 1945 | 72 |
| Stevenson | Alexander | 2 | | | | | Spain ? | 1946 | 71 |
| Terrell | Graham Victor | 3 | | | | | | 1949 | 68 |
| Varley | David Nelson | 1 | | | | | Last seen at Seaforth QLD | 1939 | 78 |
| Walford | Terence Leonard | 4 | | | | | | 1942 | 75 |
| Webber | Allan Timothy | 4 | | | | | | 1946 | 71 |